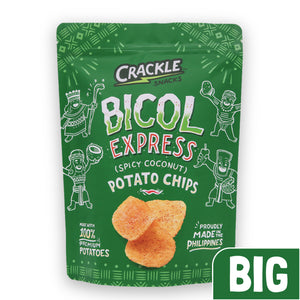 Inspired by the Filipino delicacy Bicol Express, excitedly bringing it to you in potato chip form!

Original, freshly made potato chips flavored with coconut (gata) and some chilli to give you some spice.

Proudly handcrafted from 100% Philippine potatoes sourced from Benguet, supporting local farmers. Packed in a resealable pouch for easy snacking and sharing.
Net weight: 140 g